NEW YORK (CNNMoney) — The number of foreclosure filings issued in April plunged 34% from a year ago — the seventh straight month of declines.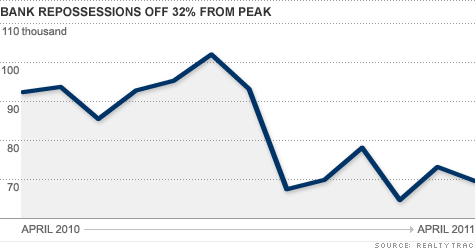 And there were just 69,532 homes repossessed last month, a 32% fall from the peak last September just before the eruption of the "robo-signing" scandal, in which banks were found to be mishandling the foreclosure process.
Will the seeming good news continue? No way, said Rick Sharga of RealtyTrac, which issued the latest monthly figures on Thursday.
Even with the drop, there were nearly 220,000 foreclosure filings during the month, including notices of default, scheduled auctions and bank repossessions.

And there are 3.7 million borrowers at least 90 days late on payments. Normally a large percentage of them would already be in foreclosure. They are not — for two reasons.
One is that ongoing regulatory issues. Banks want to make sure their procedures are all in place.
Second, the banks have already saturated many markets with repossessions they've put back on the market.("Best shrinking places to live")
"Banks can't move inventory fast enough, at prices high enough, that they're excited about foreclosing on any more homes," said Sharga.
On the other hand, there are a couple of reasons to believe the conditions may be improving. Hiring has picked up, enabling some borrowers to resume paying their bills.
Banks are also doing more to keep borrowers in their homes. In March, banks completed 77,000 mortgage modifications without government assistance, according to Hope Now, a coalition of mortgage servicers, investors and private counselors. That was 26% more than in February.
"What's important," said Faith Schwartz, the head of Hope Now, "is that these modifications are much more affordable. They should perform much better."
Home prices, however, continue to erode. That's a problem because it pushes more borrowers "underwater," with home loans worth more than the value of their homes. ("6 cities with falling home prices")
That removes an important financial cushion should the borrower run into financial problems. And it given incentive to "strategically default," or walk away from their homes and mortgage payments.
The percentage of underwater owners of single-family homes has now reached 28.4%, according to real estate web site Zillow. That will worsen if home prices fall further.
"Home value declines are currently equal to those we experienced during the darkest days of the housing recession," said Zillow Chief Economist Stan Humphries. "That's going to put more homeowners in default."
Home prices have fallen so fast lately that Humphries changed his 2011 outlook, forecasting a 7% to 9% price drop for the year, up from 5% to 7%.
Just as falling home prices result in more foreclosures, rising foreclosures hurt home prices by swamping housing markets with repossessed homes.
Bottom line is that the crisis could last for years, according to Sharga. It could be 2014 before the housing market returns to a more normal condition.